Move to Boulder, You'll Love It!
Finding the right Boulder Buyer's Agent will start a journey that will take you to your dream home in one of the country's most beautiful cities. You couldn't locate a more active, healthy lifestyle with spiritual, cultural, and intellectual amenities than in Boulder Colorado. The University of Colorado, Boulder is the center gemstone of this vibrant city.
"Dream homes and hot markets exist throughout Boulder, and there is a wealth of homes on the market," say our Boulder Realtors.
But that's just one reason to move to Boulder.  Boulder residents might work in the morning and go scale a sheer rock in the afternoon. They could take in impromptu concerts on colorful Pearl Street Mall, eat natural food, or relax with soft-tissue Rolf massage. Education is available for everything from acupuncture in local classes to environmental engineering at the University of Colorado. Residents here have an appreciation of fitness and healthy lifestyles. They eat natural foods they find at local stores like Wild Oats and local grocery chains.
It's all there for Boulder residents – health, entertainment, education, recreation, summer and winter sports. Finding that gem home in this unique city requires the talents of Boulder Realtors who are solely dedicated to helping the buyer negotiate the complex Boulder, Colorado housing market. Buyer agents help buyers decide if moving to Boulder is the best decision. Unlike traditional agents, buyer agents are a buyers' advocate – they help buyers find their dream home at the most affordable price.   That's why they are so important for a successful move to Boulder.
Boulder Colorado stretches leisurely along the Flatiron Mountains that align the Continental Divide.
Owning real estate is full of its own joys and virtues, especially when it is in a place as extraordinary as Boulder. With initiatives that seek to protect the flora and fauna of Boulder, and to conserve its natural spaces, the Boulder community is making every effort to keep Boulder as beautiful as it always has been. Purchasing Boulder real estate is a great way to personally participate in the conservation of some of the country's most wondrous mountain areas.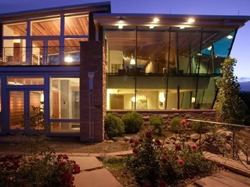 Although the real estate market has experienced better times over the past twenty years, this is still a good time to consider investing in real estate.
Because Boulder snuggles up against the foothills of the Rocky Mountains, the weather here is similar to Denver. Three hundred days of sunshine is another reason people are moving to Boulder. Boulder's average temperature in summer is 72 degrees and 32 degrees in winter. The average snowfall is highest in March at 10.5 inches, with snowfall possible as late as June and early as September. However, after a snowfall, the next day is usually sunny and the snow melts away. Just a few thousand feet up and only hours away are fabulous ski resorts where snow pack provides excellent skiing and snow boarding for 5 months out of the year.
Boulder Realtors will help you begin your  "happy-ever-after" lifestyle and home. You can count on endless opportunities for recreation, fitness, cultural, spiritual and intellectual pursuits. Magazines consistently vote Boulder as the best place to live: best place to retire, bike, be healthy, find your dream home, etc. The weather is fantastic!