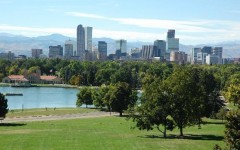 Denver has something to offer everyone.  If you are interested, give us a call and we can connect you with one of our exclusive buyer's agents serving Denver.
Great Place to Play:
Outdoors Activities:
Parks and Trails:  The City of Denver has the largest park system of any city in the US, including mountain parks, natural areas and bicycle paths.
Rocky Mountains:  A short drive from Denver, the Rocky Mountains offer activities for all different athletic abilities, year round.   Walking, hiking, camping, rock climbing, mountain biking, snowboarding and skiing are just a few of the activities your Denver neighbors participate in.
Pro Sports Teams:
Hop on the light rail to enjoy a game with the backdrop of the mountains.
Denver Broncos
Denver Nuggets
Colorado Rockies
Colorado Avalanche
Great Place to Work:
 "Colorado is ranked as the No. 1 state for labor prospects, No. 2 for growth prospects, and No. 5 for its economic climate ranking the state as the fourth-best state overall for business " – Forbes, 2009
Denver International Airport:  Easy to travel anywhere in the world using the 5th largest airport in the country, 10th largest in the world.
Education:  Metro Denver ranks 3rd for high-school graduates and 11th for college graduates of major metro areas in the US.