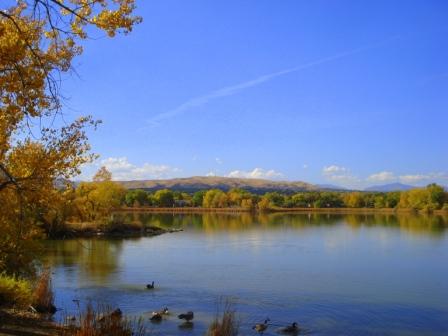 It's hard to believe that it is fall in Denver when it is sunny and 80 degrees, in October.  It couldn't be any more beautiful, and I think everyone appreciates it more because it feels like we are on borrowed time.  Go out to the park today, because we might not get another day like this until May.
But, anyone that has lived here through at least one fall and winter knows: winter will come, and probably all of a sudden.  Today could be tee shirt weather and tomorrow you could be digging your way through snow to find your car.  Who knows?
What better way to spend these extra days of fall than home shopping?  I may be superstitious, okay, I am – but when we would go home shopping on a rainy day, I felt  it somehow meant that we weren't going to find "the One."  The sunny days certainly make it more enjoyable to check out the backyards and drive through unfamiliar neighborhoods, but it also put me in a more positive, optimistic mood.  So, if you are looking to buy a home in Colorado, take advantage of this incredible fall weather.
Interest Rates on Mortgages Expected to Drop…Again.
And if the sun isn't reason enough, word on the street is that interest rates will be dropping.  Again.   According to the Associate Press, the Federal Reserve is expected to announce another round of government bond buying on November 3.  This will further lower rates on mortgages, making buying a home even more affordable now than it was a few months ago.
Get started on your house hunt today.  Go explore new neighborhoods while Colorado is glowing in the colors of fall.  Enjoy the crisp air and imagine yourself in a new backyard.  Take advantage of the low interest rates.  We just don't know when the weather, and the interest rates, are going to change.
Get in touch with one of our exclusive buyers agents today by filling in our Find an Agent form.