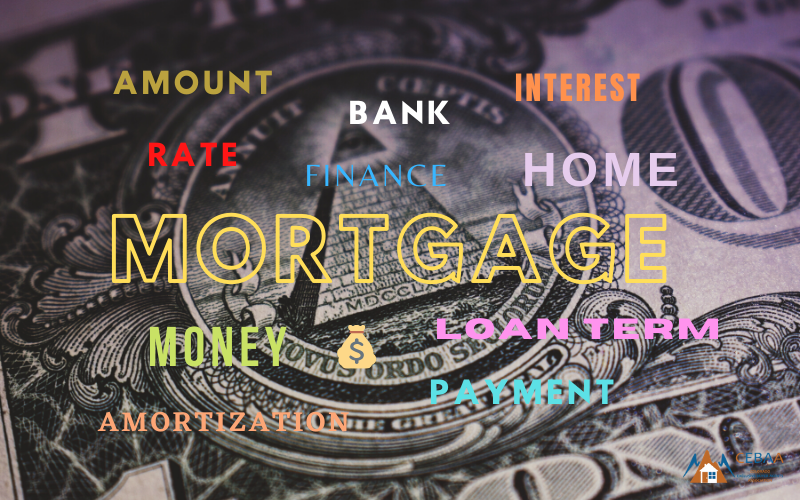 Having a house is one of adulthood's milestones. An achievement that gives us our sense of pride. But we also know that it's not easy to get one. The older we get, the more we get anxious at having a house to call our own and therefore most would result in getting a mortgage to realize it.
(By accessing this blog, you agree to the legal disclaimer below*.)

What is a Mortgage
"A mortgage is a loan in which property or real estate is used as collateral. The borrower enters into an agreement with the lender (usually a bank) wherein the borrower receives cash upfront then makes payments over a set time span until he pays back the lender in full." – Merriam Webster
How It Works
Mortgage loans are entered into by home buyers especially those who do not have enough cash on hand to purchase the home. This part of the home buying process is the most critical for potential buyers who need it. Without it, no house will be theirs.
There are several types of mortgage loans. As a buyer, you should carefully assess which one fits your needs. The best way to determine this is by working closely with professionals who can guide you to make that decision. Each type has varied requirements and will specify loan term dates, down payment, loan amount, mortgage insurance, and interest.
5 of The Most Common Mortgage Types:


Fixed-Rate Mortgage (FRM) 

The loan may vary from 5, 15 or 30-year mortgage types and can either be conventional loans or loans guaranteed by the FHA or the VA.
The monthly payment is equal to the interest rate times the principal, plus a small percentage of the principal itself. This means only a small portion of the principal is paid off each month, which makes the interest payment on the remaining principal a little less too. It results in getting more of your monthly payment toward the principal each month. Therefore, you can expect that at the beginning of the loan, most of the payment goes towards interest while most of it goes towards the principal at the end of the loan.

Adjustable-Rate Mortgage (ARM) 

The loan starts with a low fixed-interest rate for three to 10 years, followed by periodic rate adjustments.
This is ideal for buyers who can pay off a loan in a short period of time which may be coming from an inheritance or retirement funds.

Federal Housing Administration (FHA)

Most first time home buyers and those who have low to moderate-income benefit from this loan.
If you have a FICO score of 580 and above, you can get a 3.5% down payment. Below 580 will get a 10% down payment.
It offers lower interest rates to help homeowners afford housing payments and lower costs on other fees like closing costs, mortgage insurance, and others.
With lower requirements, buyers get a better chance at qualifying, instead of being totally excluded due to questionable credit history and low credit scores. Therefore, a bankruptcy or foreclosure will not discriminate against a potential buyer from acquiring an FHA loan as long as he/she meets other requirements such as re-establishment of good credit and solid payment history.
According to FHALoan.com, "In the event a borrower does not have any credit lines (2 needed) on their credit report, the FHA will allow substitute forms of credit such as utility payment records, rental payments, car insurance payments, etc."

Veterans Affair (VA)

Eligible applicants are Veterans who served on active duty and have a discharge other than dishonorable:
a) after a minimum of 90 days of service during wartime OR
b) a minimum of 181 continuous days during peacetime OR
c) have 6 years of service in the National Guard or Reserves OR
d) you are the spouse of a service member who has died in the line of duty or as a result of a service-related disability.
The loan is guaranteed by the US Department of Veterans Affairs, which means the government agrees to repay a portion of the loan to the bank if you're not able to make your payment or about to lose your home.
Because service members are always on the move and are not able to establish credit and save money, VA loans offer ZERO down payment and NO Private Mortgage Insurance.
And with VA backing each loan with a guarantee, banks/lenders carry less risk and can offer competitive interest rates from 0.5% to 1% lower than conventional interest rates.
Other benefits included are:
– Basic Allowance for Housing: considered as effective income for active military members which they can use to pay monthly mortgage costs.
– No-prepayment Penalty: this allows borrowers to off the home loan at any point without having to worry about the pre-payment penalty.

United States Department of Agriculture (USDA)

The loan is designed to help qualified borrowers purchase a residential home with a zero-down payment for rural and suburban homebuyers. You might qualify if you have an average salary for your area, and want to buy a home in a rural or suburban neighborhood. Typically, only areas with a population under 20,000 qualify.
Eligible buyers can finance 100% of the home's purchase price with a USDA loan.
Why It Matters
Funding your investment such as real estate property may post challenges. The reality is that not all buyers have large sums of money to instantly pay for a home. Such a large purchase is almost always made possible by having a mortgage for individuals lacking enough cash to purchase such an asset, upfront. 
As we go on you'll find that having a mortgage is also, not a walk in the park. As a matter of fact, this part of the home buying process requires the most time and attention way before you even plan for a home purchase. It's during the mortgage application where you need to make critical decisions and find out whether you have done enough for lenders to take a risk on loaning the money you need. As always, lenders will take a hard look at a buyer's credentials, accept it knowing that there is no guarantee the borrower will be able to pay in the future. Borrowers, on the other hand, accept loan terms, knowing that they may eventually continue paying even when the asset is lost.
5 Things To Prepare
Preparation is key in buying a house and you'll find out why when you start to work on the home buying process. Below are some of the major things a buyer needs to consider and work on ahead of time for a successful closing.
Credit Score. Whether or not you're buying a house, establishing your credit history as soon as you're able will play a big role in determining your ability to make large purchases in the future. Make sure you find time to educate yourself or reach out to experts for guidance.
Type of Mortgage. Educate yourself and find out which among the mortgage loan types you qualify for. The safest way to do your research is with a buyers' agent's guidance. They have all sorts of real estate connections and can further educate you on things that matter.
Shop for Lenders. Before you fill out a mortgage application, check out financial institutions and lenders. Get familiar with them and find out what they can offer. Buyers agents can also refer you to their trusted lenders who can help.
Compile Loan Documents. This is self-explanatory. Loan documents include credit report and history, asset evaluation, property appraisal, and more. Make sure they are complete and available upon filing the mortgage loan application. 
Get A Pre-approval. Some sellers prefer buyers who are already pre-approved. It gives you an edge when it comes to backing up your offer since the sellers would already see how much you can borrow.
For pre-approval be sure to study the following factors:

Loan-T0-Value and Debt-To-Income Ratio

FICO Credit Score

Employment Status

Source of downpayment
Steps in Mortgage Application
After discussing the common mortgage types and what to prepare for, here are the steps in finally filing your application:
Determine How Much Money You Can Borrow

Select the Right Type of Loan or Program

Decide on the Lender

Submit An Application

Underwriting Process Begins
Income/Employment Check
Credit Check: credit score and report
Asset Evaluation
Property Appraisal
Other documentation
6. Wait for Loan to Clear/Close!
Important Reminders:
Remember, mortgages are not always easy to secure. As such any prospective buyer must prepare for this process way ahead of time. To get your loan approved, be sure to do the following:
Fill out your loan application completely. Don't leave out any pertinent information that may affect or question your credibility.

Respond promptly to the lender's requests of additional information to avoid possible delays in the loan approval.

Always check your finances and review statement of accounts. Avoid moving money into or from your bank accounts without a paper trail. If you must, make sure that you can account for the transactions and be able to pay your balance in full on or before your due date. Any discrepancy may result in a huge reduction of your credit score even if it's just for a small amount. 

As part of the preparation in establishing a good credit report, do not make any major purchases until your loan is closed. Lenders need to see that you're able to responsibly manage your finances and pay your other debts on time. So it's important to avoid making unnecessary purchases if you can until the approval is made.

Check your calendar and see your upcoming appointments. If you plan to be out of town, sign a Power of Attorney to authorize another individual to sign on your behalf when your loan is expected to fund.
*Legal Disclaimer:
We hereby authorize you to view and print information on this blog subject to it being used for informational and non-commercial purposes.
It is our intention that data provided on a subject is of a general nature. Our blog does not represent an exhaustive treatment of subjects nor is the information intended to constitute accounting, tax, legal, consulting, or other professional advice.
Prior to making any decision or taking any action we kindly request you to contact your tax or legal advisors.
The information contained in this blog is believed to be reliable, but we do not warrant its completeness, timeliness, or accuracy. The information on this blog is not intended as an offer or solicitation for any mortgage product or any financial instrument. The information and materials contained in this blog – and the terms and conditions of the access to and use of such information and materials – are subject to change without notice. Products and services described may differ among geographic locations, offices, and as a result of individual conditions. Not all products and services are offered at all locations. In no event will we be liable for any loss or damage including without limitation, indirect or consequential loss or damage, or any loss or damage whatsoever arising from loss of data or profits arising out of, or in connection with, the use of this blog.
Please use this document and information at your own risk. The content of this site is copyrighted and therefore any unauthorized use of any materials on this blog may violate copyright, trademark, and other laws.
Materials on this blog may not be modified, reproduced, or publicly displayed, distributed, or performed for any public or commercial purposes prior to our approval.